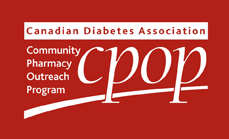 The following pharmacies are Canadian Diabetes Association Community Outreach Program partners and ProHealth Pharmacy Network members who specialized in diabetes care and compounding. They have Certified Diabetes Educator and Certified Compounding Pharmacist on staff to help empower diabetes people for optimal health and provide customized medications to meet patient needs.
FREE WELCOME GIFT COUPON
Present this coupon to any of our ProHealth Pharmacy Network member for a free Welcome Gift as a thanks for visiting our store and website. No purchase required.

ProHEALTH Pharmacy
343 Coxwell Ave (& Gerrard Ave)
Toronto, Ontario M4L 3B5
Tel: 416-465-7776 Fax: 416-465-6456
Mon - Fri: 10:00am - 6:00pm; Sat: 10:00am - 3:00pm
Sundays and Holidays: Closed
Coxwell Medical Centre 647-267-3366
Family Practice and Walk-In
New Patients Welcome


Boniface Park Pharmacy
3545 Kingston Road, Unit #16
Scarborough, Ontario M1M 1R6
Tel: 416-264-0771 Fax: 416-264-0879
Mon - Fri: 10am - 5pm
Tue: 10am - 7pm
Sat: 10am - 1pm
Medical Clinic: 416-266-6600
Family Practice and Walk-In


Kennedy Road Pharmacy
2 Antrim Cr., Unit #4
Scarborough, ON M1P 2N3
Tel: 416-298-2222 Fax: 416-298-2223
Mon - Fri: 10am - 7pm
Sat: 10am - 3pm
Sundays & Holidays: Closed