Boniface Park I.D.A. Pharmacy | 3545 Kingston Road, Scarborough, ON | Tel: 416-264-0771 | Fax: 416-264-0879
LIMITED TIME OFFER
Use Coupon Code "PICKUP" for 30% OFF
with Online Ordering & Pickup.
Please specify "Boniface Park Pharmacy" for pickup in comment line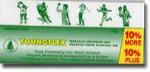 Youngflex Massage Ointment 30g for $12.84
"Youngflex Therapy"© is a revolutionary natural healing process, which has advanced natural healing techniques for nasty chronic pains to a new era, comprising three inseparable aspects as described in the "Therapy" section of this website and has broken away from all existing treatment techniques on "as-is" or "outcome" areas only. And thereby "Youngflex Therapy"© is totally different from other creams, lotions, ointments, patches, painkillers, cortisone shots, or even joint surgeries. "Youngflex® Massage Ointment 168" is only a part of this revolutionary natural healing process of "Youngflex Therapy"© and is precisely formulated to effectively & safely take out deep tissue muscle inflammation – causes for chronic pains that X-rays or MRIs cannot detect applying pressure up to the maximum degree of endurance for pain by each patient in order to avoid cortisone shots and joint surgeries. The long-term benefit of applying "Youngflex Therapy"© as and when there is deep tissue muscle inflammation is to always limit chronic pains with the areas of muscle only, never allowing such deep tissue muscle inflammation to spread over onto joints leading to unnecessary joint surgeries due to wear and tear over years.
M758088/9776/20170312